Small though the school was, the lives of those 19th century pupils were interwoven with some interesting historical events. They knitted scarves and mittens for the crew of the Felix, which sailed from Ayr Harbour in search of the explorer, Sir John Franklin, who was returning from an attempt on the North West Passage; they listened to Louis Kossuth, Hungarian patriot, describing the oppressions against his country by the Hapsburgs of Austria: they hung out of their bedroom windows and watched a boatful of burning tar being rushed round the Square the night the news came to celebrate the fall of Sebastopol during the Crimean War, and one of their number from Delhi was able to recount personal experiences of the Indian Mutiny. Their great heroine at that time was Florence Nightingale – one of the present school Houses is named after her.
Scottish Field, 1968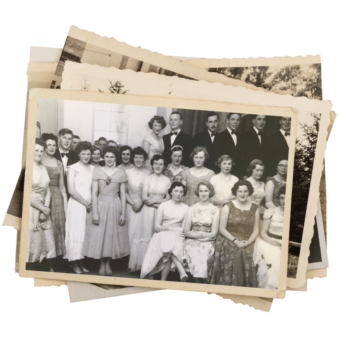 By the turn of the century, the school was bought by Miss Smith and Miss Cay, who purchased additional property in Wellington Square and enhanced the school's academic reputation. This pioneering spirit in girls' education saw numbers steadily rise and in 1923, Wellington School moved to its present site, Carleton Turrets. Two notable pupils of that era received widespread notoriety: Dr. Elizabeth Hewat, theologian and historian and Miss Elizabeth Kyle, a prolific author.
In the late 1960s, Dr. Hewat, who was then Professor of History at Wilson College, Bombay gave Scottish Field an account of her time at Wellington School. She said:
"…as I look back on the school I knew from 1890 to 1912, I feel it was passing through a stage of transition… It was not very far removed from some of the Dames' schools of the 19th century. The Principals, however, were alive to new ideas in education. They introduced a school uniform, and brought in visiting experts from outside, a gymnastic teacher, a master to teach singing, an outstanding elocution teacher, Miss Marjorie Gullane…. Even in the Ayr of 50 years ago ideas were entering on the emancipation of women. I remember at lunch one day Miss Smith speaking of the injustices of women like Miss Cay and herself paying rates and taxes and not being allowed to vote, and we heard of a wealthy cultured woman at Prestwick who went to prison rather than pay taxes when she had no vote."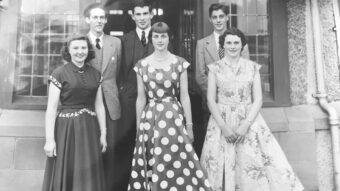 SOS –
Save Our School!
On the retirement of the longstanding Headmistress, Miss Carter, in 1948, the school was threatened with closure. This was thankfully averted by the intervention of a group of parents who bought the school and later formed it into a private company limited by guarantee. Following this period of instability, numbers steadily increased.
Wellington School, founded in 1849, and one of the oldest schools for girls in Scotland, is magnificently situated on the sea front at Ayr, with a splendid view of the Isle of Arran to the west and Heads of Ayr and the Carrick Hills to the south. The main school buildings, Carleton Turrets and Westfield House are adjacent; both are substantial, stone built houses centrally heated throughout. The third building, Sleaford House, is situated a few minute's walk from the others.
Wellington School Prospectus, 1960s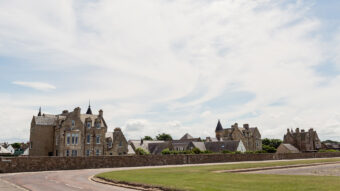 Changing times
By the 1960's, a number of new buildings were purchased to accommodate the ever growing number of pupils. Westfield House was acquired for boarding and dining facilities, Sleaford is no more.
Up until 1994, Wellington remained a girls boarding and day school, despite having catered to some younger boys during the initial post-war period. Boarding was necessary and popular with up to a quarter of the school's population calling Westfield House their home. One half of boarders were from overseas, hailing from British military families stationed abroad or indeed natives of such countries as Hong Kong, Gambia, Guyana, Borneo, Italy, Kuwait, India, Zambia, Turkey, Kenya, America and Malaysia.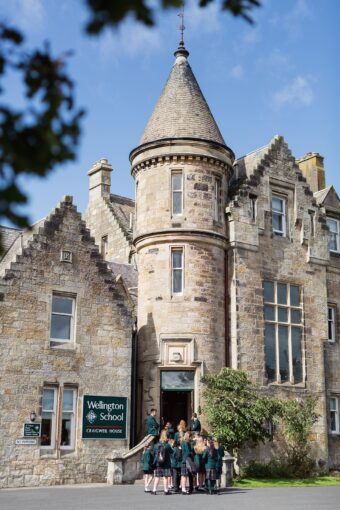 In the mid 1990's, there were a great number of significant changes over a comparatively short period of time. The most transformative was perhaps the amalgamation with the Mossblown preparatory school, Drumley House, in 1996. Already with boys up to S2 by this time and soon to be fully co-educational throughout, the merged school was now the only independent school in Ayr – a legacy that lives on to this day. The Wellington Campus now consists of three turreted buildings in a seafront location within Seafield, a residential part of the town, with its own playing fields at Doonside.
In early 2016, the school took full possession of Craigweil Lodge, a property between Carleton Turrets and Craigweil House. The project was completed in late 2018 and more information about this exciting development can be found here.
Despite all of these physical changes and a potential closure, Wellington School continues to grow in size and reputation. We feel our success, which sets Wellington apart from other schools, lies in our small classes, nurturing environment, excellent teaching and a clear, unequivocal focus on the individual. Additionally, our aims, although penned in the mid-twentieth century, ring true to this day: "….great importance is attached to the development of character and the formation of good habits, both in and out of school, and the discipline of the School aims at producing productivity, self-control and the power to assume responsibility, thus fitting pupils for the practical and social duties of life."