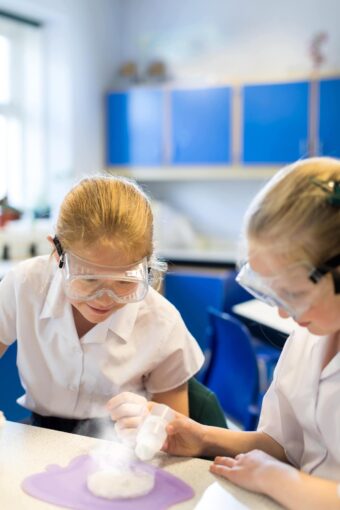 Chemistry at Wellington is a vibrant and fun-filled department which enjoys exam success and is chosen by many pupils. Here are a few reasons why:
Curiosity. We have bangs, we have flashes, we have an excitement. We capture the attention.
Help. Assistance is always on hand. We pride ourselves on the support we provide to our pupils in class, out-with and online.
Enthusiasm. Our department has this in abundance! The courses are delivered by specialists who enjoy their subject and enjoy sharing knowledge with pupils.
Motivation. Our pupils welcome their lessons. They embrace the challenge of learning and always want to come back for more. We enjoy the largest Advanced Higher cohort in the school.
Investigation. Starting in the Junior School, we encourage pupils to think, to explore, to research and to deliver.
Skills. Our pupils start learning practical skills in primary school. From S1 through to S6 if we can explain a concept using practical work, then we will. Our senior pupils are adept practitioners who approach experiments wisely.
Technology. We like IT. We use IT. We always look to improve and incorporate IT.
Research. We always encourage independent learning. We help pupils to become organised and methodical in their planning for projects and in preparation for their exams.
Yttrium. A pupil in chemistry will be able to tell you the chemical symbol, the atomic number, the gram formula mass, electron arrangement, explain why it is an example of a transition metal and discuss its reactivity.