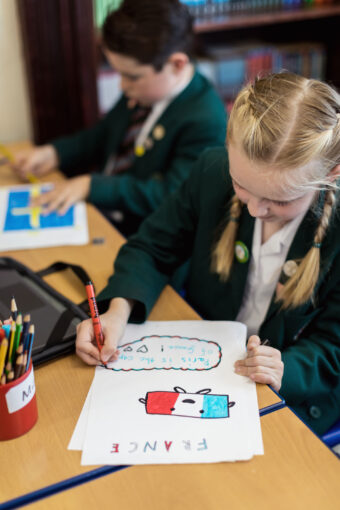 French, German and Spanish
Wellington School is the only school in Ayrshire which offers four languages (French, German, Latin and Spanish). In the Junior School, all pupils study French from P1 and have the opportunity to engage with other languages through our projects with partner schools abroad. In the Senior School, all pupils study French in P7, S1 and S2. In S1, pupils are introduced to German, Spanish and Latin.
Most pupils study at least one modern foreign language to National 5 and many continue to Higher and beyond. French, German and Spanish are offered to Advanced Higher. We have native speakers of these languages in the Department.
In Primary 1 to Primary 4, we adopt a fun approach to learning French with the emphasis on games and songs to develop listening and speaking skills and to encourage good accents. In Primary 5, reading and writing are formally introduced and girls and boys enjoy using their Chromebooks to consolidate their learning and to research life in France and in French-speaking countries. In Primary 6, pupils are introduced to our interactive textbooks and materials and build a strong foundation for continuing their learning in the Senior School. From Primary 7 to Senior 2, a more formal approach is gradually introduced to prepare our pupils for the challenges of certificate courses.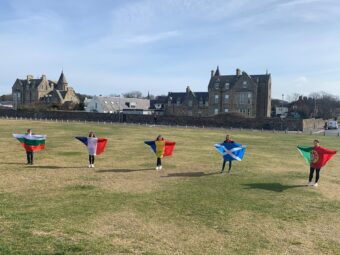 National 5
We start the National 5 courses in Senior 3 and this gives our pupils two years to prepare for their SQA examinations. In S3, pupils extend their knowledge and understanding of vocabulary and grammar and competencies in the four skills of Reading, Listening, Talking and Writing. In S4 they further develop these and prepare for the National 5 examination. Pupils are encouraged to make the most of the opportunities that the school offers to interact with native speakers and to visit the countries of the languages studied.
Higher
Pupils continue to consolidate their ability to read, listen, talk and write in their chosen language(s) and also develop more sophisticated skills such as translation. Listening and cultural understanding are enhanced through the embedding of films and videos into our courses. An important part of the Wellington language experience is the opportunity to interact with native speakers and in the Higher courses, pupils work with native speakers for at least an hour per week.
Advanced Higher and Baccalaureate
The Advanced Higher course is focused on the advanced skills of reading, listening, talking and writing, in order to understand and use a modern language at a high level. As in the Higher course, pupils consolidate their translation skills and application of knowledge and understanding to a range of contexts. At this stage, the formal study of literature in a foreign language is introduced, giving our pupils an deeper insight into the culture behind the language(s) they are studying.
Wellington School offers the Scottish Baccalaureate in Modern Foreign Languages in S6. The Interdisciplinary Project can be taken on its own or as part of the full Baccalaureate. Pupils choose a topic of interest and study this independently and in depth. Previous candidates have studied the wine industries of Spain and Argentina, Women and the French Resistance, the effect of Covid-19 on rugby in Scotland and France, etc.
Curricular Activities and Extracurricular Clubs
ERASMUS+, eTwinning, Connecting Classrooms and UCAPE
Wellington School offers a wide range of international opportunities and these are open to all pupils, regardless of whether they study languages or not. The Modern Languages Department coordinates these international activities.
Erasmus+ is a European Commission funded programme which supports international project work. Our pupils have collaborated with young people in schools across Europe, including France, Germany, Bulgaria, Romania, Belgium, Hungary, Slovenia, Portugal and North Macedonia and have travelled to these countries. Current projects are focused on cultural identity and on sustainability.
eTwinning is also funded by the European Commission. eTwinning projects take place in the virtual world and pupils work with each other via the dedicated digital platform. Recent projects have won recognition and awards at national and European level.
UCAPE is an association of schools with a shared vision. Its programme helps young people to develop linguistic skills and intercultural understanding. The Association offers regular youth conferences and opportunities for young people to meet. Through the many opportunities available to them, pupils build a portfolio of linguistic, cultural and citizenship experiences which lead to the award of the UCAPE diploma at both junior and senior level.
Connecting Classrooms is a British Council programme which connects schools worldwide. Wellington School has a partner school in Jaipur, India, and our S5 and S6 pupils can join our biannual visit to India and spend time at our partner school.
Year Group Specific Opportunities
Primary 7 pupils may spend three days at our partner school in Dortmund, Germany, with the support of UK German Connection. Every second year, there is an educational trip to France and Belgium for Primary 7 and Senior 1 pupils.
There are group exchanges for pupils in S2 and S3 to France, Germany and Spain. Senior pupils are also offered individual exchanges to Wellington's partner schools in these countries.
Modern Languages can be combined with almost any degree, making graduates more attractive to employers. Degrees partnered successfully with languages include, but are not limited to, Medicine, Dentistry, Veterinary Medicine, Law, Accountancy, Business, Music, International Relations, Finance, Engineering, Psychology, and Biomedical Sciences. At least two languages are required for unique courses such as the triple language degree at the University of St Andrews or one of the Interpreting and Translating degrees offered by Heriot Watt University. Many of our leavers continue their language studies at university, often combining their chosen language with another discipline.