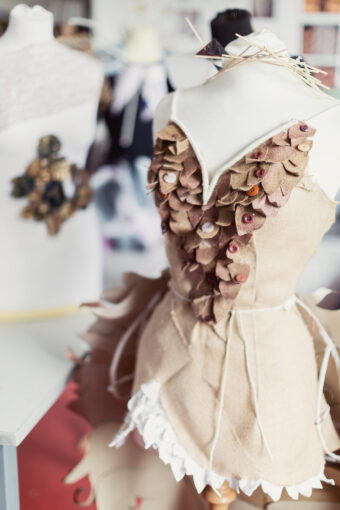 Welcome to the department of Art and Design. We are a well-resourced and academically successful department occupying two light filled studios in the senior school and a separate studio in the junior school. Our experienced staff provide the perfect creative balance of Fine Artists and Designers, ensuring that pupils are encouraged to explore and experience a broad variety of techniques, genres and approaches. Pupils have specialist art teaching from Primary 4 and our Primary art teacher Miss Bindlay also teaches Saturday classes at Glasgow School of Art. Mrs Morton and Mrs Hunter have senior marking positions with SQA. Mrs Hunter is also an SQA verifier.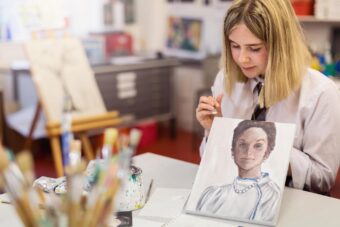 S1 and S2
Pupils build on their skills to reflect national standards with all pupils working in both 2 and 3 dimensions. The department also delivers a range of media based activities and a range of subject matters to challenge pupils and help develop their skills. For example, the department recently acquired a laser cutter and relevant software which will allow pupils to link their school experience to industry.
National 5
In S3 and S4, pupils follow the National 5 course which covers all genres of design and expressive art. Uptake of Art & Design at National 5 level is thriving which creates a varied, diverse and very personal approach to the subject.
Higher and Advanced Higher
The experiences and skills of pupils are further developed at Higher and Advanced Higher. At this stage, pupils are expected to have a very independent attitude to the course allowing their ability and skills to really shine.
Wellington School offers Advanced Higher courses in both Design and Expressive Art with pupils specializing in one of these areas. Pupils can link their choice to a potential future career or simply work at this level to develop skills in a subject that they enjoy.
Each of the SQA courses are highly valued by universities nationally, with creativity being apparent in all industry areas.
Curricular Activities and Extracurricular Clubs
The Department hosts art exhibitions to reflect the breadth of skills and abilities of pupils and art, meanwhile, pupil work is regularly displayed throughout the school, promoting inclusion at all levels.
Visiting artists and designers are an enriching aspect of creative studies and form part of the department's reoccurring annual activities. These visits have taken place both during class time and externally. Developing pupils' creativity has also been delivered through ERASMUS projects with workshops in graphics, millinery, architecture, textiles, printmaking and photography.
The department is open throughout the lunch hour and pupils are encouraged to use the facilities to develop their skills.
The Art Captains run a junior school art club after school and also mentor P7, S1 and S2 pupils who attend lunch time art clubs.
Competitions
The artistic talent of our pupils is often recognised in national competitions such as The National Galleries' and Royal Scottish Academy's annual school competitions. In 2020 two of our pupils were selected from over 17,700 entries to exhibit in the Royal Academy London Young Artists summer show. We also enter national fashion competition Junk Kouture and have taken part in the regional final in Ireland.
Future Studies & Careers
The creative industries, for nearly a decade has been the fastest growing part of the economy. More than ever before there is a demand for creative people with excellent communication skills, enquiring minds and innovative ideas. We encourage and promote the development of creative thinking.
Scotland boasts some of best teaching and research facilities in Europe for pupils wishing to pursue art and design based courses after school. Specialisms vary from fashion, textiles and graphic design to fine art, photography, architecture, product and interior design. Many courses provide a direct route into a profession and some courses offer opportunities for students to access industry before they graduate.
The Glasgow Conservatoire offers courses in the Production Arts and Design. This is a high-level learning environment for aspiring scenic artists, prop makers, stage carpenters, costume makers and set and costume designers. The skills developed directly link to the environment where technical knowledge is as important as creativity and individuality.