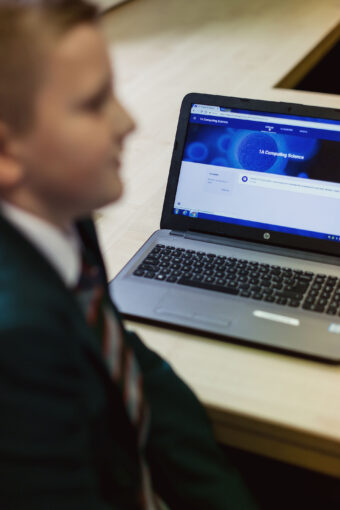 At Wellington, we realise that Computing is a vitally important field for not only the future but also the present day. It is estimated that annually there will be an additional 13,000 digital jobs in Scotland, with only 5,000 people being produced with the required skillset to fill them. PWC forecast that by 2037 there will be an additional 7.3 million digital jobs across the UK and that 30% of existing jobs are at risk of automation by 2030. For these reasons it is vitally important that pupils receive digital skills that will allow them to progress and contribute as society moves further into a digital future.
Within the department we aim to give pupils an overview of the many areas within Computing such as Software Design & Development, Web Design, Physical Computing & Cyber Security.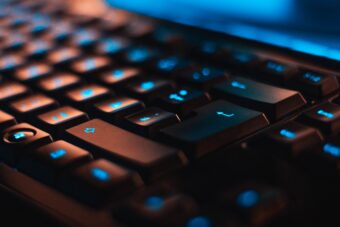 S1 and S2
Pupils will gain a fundamental understanding of how they can stay secure online and how they can protect their devices. They will gain an understanding of how devices communicate over networks and the different threats this can lead to. They will build their analytical and evaluation skills by evaluation how secure they and their devices are and will recommend how to improve this.
Throughout S1 & S2 pupils will also gain an understanding Software & Web Development and will work both individually and collaboratively to build efficient solutions to problems. They will gain experience using HTML & CSS for web development along with programming experience with Lego Mindstorm EV3 robots, BBC MicroBits & App Development. An emphasis is placed on Physical Computing as well to ensure pupils understand how their devices work and will gain experience building simple circuits.
Topics covered in S1 & S2 include: The Internet & World Wide Web, Device Security, Online Safety, Digital Footprints, Searching for Information, Grooming, Lego Programming, Circuits with BBC Micro Bit, App Development, Web Development.
National 5 & Higher
Learners will develop an understanding of the central role of computing professionals as creative problem-solvers and designers, able to design, implement and operate hardware and software systems, and of the far-reaching impact of information technology on our environment and society. They will also continue to develop a range of transferable skills for learning, skills for life and skills for work, opening up a wide range of career and study opportunities and enabling them to develop as global citizens who can contribute effectively to their communities, society and the world.
The National 5 & Higher follow 4 Units: Software Design & Development, Web Design & Development, Database Design & Development & Computer Systems.
The course is assessed by an externally marked coursework (31%) & an external exam 50%.
Advanced Higher
Advanced Higher pupils will continue their development from Higher by Integrating their knowledge across the 3 main topics of Database Development, Web Development & Software Development. They will gain an understanding and practical experience of how these 3 areas can interact to create a fully functioning software solution. They will also gain practical experience with the full software lifecycle as they will take a project from the Analysis stage through to completion and Evaluation.
The course is assessed by an external exam (50%) and an individual project (50%).
Cyber Security
At Wellington we have a focus on Cyber Security and this is integrated into all Levels of the Senior School. Senior pupils will have the opportunity to assume leadership roles by creating & delivering Cyber Resilience & Internet Safety workshops within the Junior School. Through integration with existing topics, extra-curricular activities & national competitions, pupils at all levels within the department will gain an understanding of how to stay secure online, the opportunities available within the fast paced and growing Cyber Security Industry and the skills needed to enter it. Pupils will cover topics such as Ethical Hacking, Digital Forensics & Data Security and will learn how to be resilient in the face of a Cyber Attack. As more and more of society moves online these skills will become vitally important and these skills will allow pupils to succeed once they have left education.