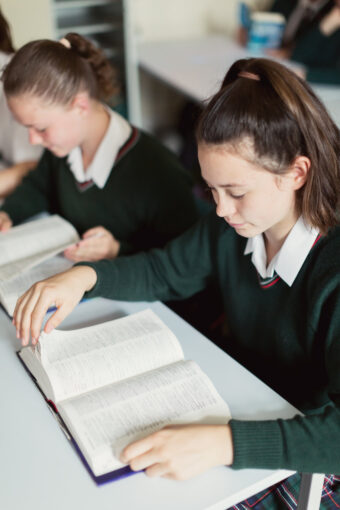 Studying English develops the ability to analyse and evaluate texts and apply thinking and communication skills. Consequently, English permeates all subjects, professions and areas of life. It is particularly useful for courses in English Literature, Media, Humanities, Social Sciences, Marketing and Politics as well as for careers in Education, Law, Business, Journalism and Commerce.
Scottish Studies is embedded within the English curriculum from S3 to S5 which means that very pupils has the opportunity to gain an additional National 5 in this subject.
All members of the English Department work for the SQA, marking examinations from National 5 to Advanced Higher. In addition, Miss Dunn is an SQA Verifier for National 5.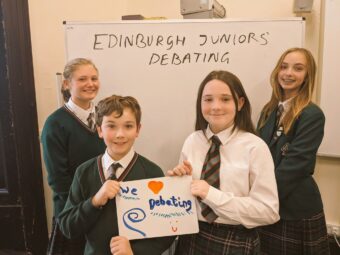 S1 and S2
The aim of the S1 and S2 course is to offer pupils a challenging and broad experience of English and literature. The course builds pupils' skills and confidence but most importantly, they develop an enjoyment of English. In S1 and S2, pupils are introduced to a wide range of literature both inside and outside of the classroom covering all genres: prose, poetry, drama and media.
Pupils are given the opportunity to develop their presentation skills with individual talk competitions. Every December, S1 pupils enjoy the Christmas theatrical production at the Citizens Theatre, Glasgow.
The course is designed to fit in with the Outcomes and Experiences of Curriculum for Excellence by having, at its core, the concepts of pace, challenge, breadth and formative assessment.
National 5
In S3, pupils embark on the two year National 5 course. At Wellington, pupils complete the units necessary to achieve National 4, as well as all internal assessments required for an award at National 5.
An exciting and eclectic mix of traditional and modern literature is taught including Shakespeare, Orwell, Hinton, Ibsen, Ishiguro and O'Farrell. Pupils will remain with the same English teacher through to the end of S4 to maintain and ensure continuity and progress.
Pupils in S3 contribute to the annual BBC School Report and there is an S3 Public Speaking Competition held in June with a cup awarded at Speech Day for the winner.
Higher
The Higher course offers opportunities to develop and extend a wide range of skills in reading, writing, talking and listening. Pupils will study the poetry of Carol Ann Duffy for the Scottish Set Text section of the examination, as well as a variety of drama and prose including Williams, Miller and Wilde.
The MacDonald Creative Writing Prize is awarded annually.
Advanced Higher
This course is designed to be inspirational and challenging. Pupils will tackle sophisticated texts and concepts, studying a variety of literature, which may include Hardy, Chekhov or Williams. They are also required to develop their skills in Textual Analysis and produce a Creative Writing Folio, covering a variety of genres.
Pupils work independently, producing their own dissertation and preparing tutorial presentations on literature. These are invaluable experiences in preparation for university.
At the beginning of the course, pupils visit Glasgow University Library where they find further reading for the literature and dissertation papers. Pupils are given a library card and are encouraged to visit the library regularly throughout the session.
For session 2016/17, there will be the invaluable opportunity for pupils to work with the Royal Conservatoire of Scotland, with a focus on dramatic production.
Curricular Activities and Extracurricular Clubs
Debating
The Debating Club is extremely popular and in session 2016/17, weekly coaching sessions will be run by an international level Debating Champion.
The school participates in a number of competitions including the Rotary Public Speaking Competition; English Speaking Union (ESU) Junior and Mace Debating competitions; the ESU Public Speaking Competition; the Law Society Debate. The McKinstry Debate is held every June.
Writing
Pupils have been fortunate to receive visits from authors including Allan Bissett, Catherine MacPhail and Lisa Ballantyne to talk about their writing or run writing workshops. Meanwhile, the English Department's thriving Creative Writing Club, sees participants enter competitions and produce collections of their writing.
Senior pupils have the opportunity to attend the annual News Academy Conference for Young Journalists.
Recitation and Theatre
The Department has fostered links with local nursing homes where pupils often entertain the residents with poetry, drama and short stories. Not only does this help pupils gain confidence but benefits the local community.
Pupils enjoy regular theatre visits and an annual trip to the Edinburgh Festival.
As of academic year 2016/17, Advanced Higher pupils will have the opportunity to work with the Royal Conservatoire of Scotland, with a focus on dramatic production.
Senior Pupils and Captains
Pupils in S1, 2 and 3 are mentored by senior pupils and the annually elected Literacy and Debating Captains assist throughout the department. The Debating Captain chairs internal and external debates and assists at Junior Debating Club. Meanwhile, the Literacy Captain promotes reading and writing across the school and organises World Book Day Events and Creative Writing Competitions.