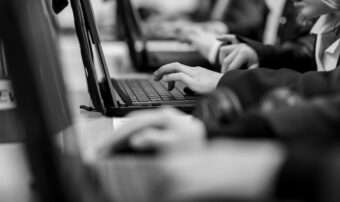 Business and enterprise are at the heart of national growth and development. Business related courses offer pupils the opportunity to access, understand and contribute to the dynamic business environment. The courses offered at Wellington provide a solid grounding for further study in general areas such as Business, Social Studies and Management and for professional qualifications in Law and Accountancy. The Accounting and Business Management courses are also of benefit to anyone contemplating a career in government, commerce or industry.
Enterprise Education is prominent at all levels at Wellington. Pupils are given opportunities to develop a range of essential skills and experiences for the future. The Business Studies department currently offers courses in Business from S1 to S6 and Accounting from S3 onwards.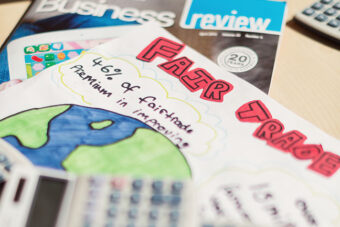 S1 and S2
S1 and S2 pupils receive a thorough grounding in a wide variety of areas of study, including: The Business Environment, Teamwork and Communication, Business Finance, Business Technologies: Spreadsheets, Business Ethics and Social Enterprise in Action: the annual Wellington School Fair Trade Event.
National 5
Pupils in S3 and S4 can continue their study of Business Education in S3 by choosing Accounting, Business Management or both.
National 5 Business Management is made up 5 areas of study: Understanding Business; Management of Marketing; Management of Operations; Management of People and Managing Finance. Meanwhile, National 5 Accounting comprises of two areas of study: Financial Accounting and Management Accounting.
Higher
Accounting
The Financial Accounting element of the course involves the preparation of the final accounts of partnerships and limited companies. It also covers analysis of financial accounting information through ratio analysis and exposes pupils to various accounting standards and principles.
Whilst studying Management Accounting, pupils will study the classification of costs and costing systems, the preparation of cost statements, budgeting and profit maximisation statements, all of which aid decision making within an organisation.
Across all areas pupils will prepare their work using spreadsheets applying formulae to their calculations.
Business Management
A main feature of this course is the development of enterprising and employability skills. The course highlights the different ways in which large organisations operate. Pupils learn to understand and make use of business information to interpret and report on overall business performance, in a range of contexts. Using current business theory and practice, the course reflects the integrated nature of large organisations, their functions and decision-making processes.
Advanced Higher
Accounting
The Advanced Higher course comprises two areas of study: Financial Accounting and Management Accounting. Financial Accounting develops the skills and techniques which will allow pupils to record the dissolution of a partnership; prepare financial statements of a plc suitable for external publication and a group statement of financial position. Pupils will also learn how to prepare a statement of cash flow. All of these will be presented in line with current financial standards, the underlying theory of which will be explored as part of the course assignment: a 3,000-4,000 word project.
Management Accounting focuses on the skills and techniques required to prepare cost statements for long term contracts; profit statements created using marginal or absorption costing techniques; functional and/or flexible budgets for planning and control purposes. In addition, pupils will learn how to use activity based costing as a means of determining unit costs; how to apply investment appraisal techniques for decision making purposes and use/manipulate variance analysis techniques. Pupils will also develop a knowledge and understanding of the underpinning theory.
Business Management
Pupils address many of the key issues surrounding the global economy – the rise of the multinational via globalisation, trading blocs such as EU and ASEAN, and the impact of ethics within business are some of the topics covered. The course also covers issues more personal to an organisation such as leadership, motivation, equality and diversity, and the implementation of change. All of these topics are underpinned by a detailed examination of the work of some of the most well-known management theorists.
Evaluating a Business is the unit in which pupils undertake an analysis of a real life business and are required to evaluate data and reach conclusions from financial and other information from reported annual accounts, government statistics and market data. This represents the starting point for the Business Report, an extended analysis piece of 2,500 – 3,500 words, which is marked externally.
Curricular Activities and Extracurricular Clubs
Business skills are encouraged and teamwork is valued and actively nurtured in Business Education pupils of all levels. They are encouraged to participate fully in a wide range of challenges and competitions, both in school and in extracurricular activities including S2 Fair Trade Day; Lions' Lair contest; Fiver Challenge; Student Investor; Foreign Exchange Programme Enterprise Days. Trips and visits are organised to local businesses such the Caledonian Paper Mill, Gailes Hotel, Amazon and Ardagh Glass. The London trip for senior pupils involved a visit to the Bank of England museum, guided walking tour around the Shoreditch business district and a visit to the City Halls to meet with the Mayor's Advisor. Advanced Higher pupils also have experienced an afternoon at the Escape Rooms working as a team to break the codes which frees them from the abandoned Academy.