Physical Education
Wellington School has a long established and well-earned reputation for excellence in sport. The main team sports are hockey and netball for girls and rugby, football and cricket for boys but the school provides a wide array of opportunities for pupils of all ages to participate and excel in a variety of sports.
Pupils are encouraged to test their skills by playing competitively at all levels, which has contributed to a number of former pupils making sport their career.
Technology in Sport
The department continues to use technology to enhance teaching and learning. The use of apps such as coaches eye, sprint timer, Strava and pacer test are used to record and challenge pupils. Video analysis is used during performances to provide visual feedback and analysis and QR codes, Kahoot and Google Classroom are used extensively to highlight learning outcomes in National 5 and Higher.
Core P.E.
From S1 to S6, all pupils experience a broad education in a variety of sports. This gives them a basic knowledge which can then be applied to a particular sport, if the pupil wishes to specialise. Pupils are given the opportunity to participate in the following sports: Swimming, Cross Country, Gymnastics, Dance, Basketball, Volleyball, Badminton, Football, Rugby, Hockey, Footgolf, Rounders, Cricket, Tennis, Squash and Fitness.
Sports Leaders
Pupils in S5 and S6 are given the opportunity to help with primary and junior classes. Pupils who undertake the course will gain knowledge of leadership with a view to planning and leading sport in school or in the community.
National 5
Pupils in S3 and S4 focus on their own performance and how it can be improved. The National 5 course comprises two units: Performance Skills and Factors Impacting Performance.
Assessment
50% – Portfolio – Externally assessed by SQA.
50% – Practical Performance in 2 activities.
Higher
Higher Physical Education covers two internal units: Performance Skills and Factors Impacting on Performance. The main purpose of the Higher is to develop and demonstrate a broad and comprehensive range of complex skills in challenging contexts.
Assessment
50% – Written exam 2.5 hours – Externally assessed by SQA.
50% – Practical Performance in 2 activities.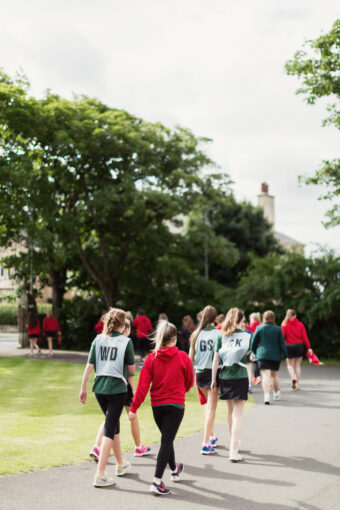 Curricular Activities and Extracurricular Clubs
The department offers a number of opportunities to play sport both in and out of school. Inter house sports include Golf, Rugby, Football, Rounders, Netball, Hockey, Swimming while inter school sports extend to Rugby, Hockey, Netball, Athletics, Cricket, Cross Country, Aquathlon, Swimming, Tennis and Rounders.