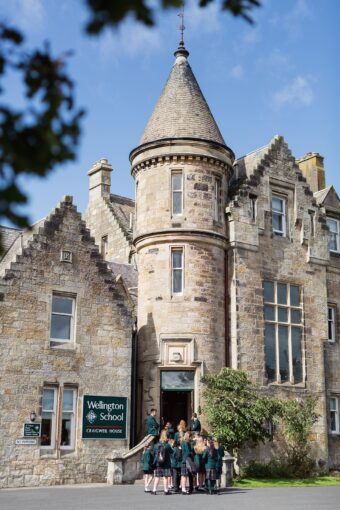 Wellington is the only school in the south west of Scotland where pupils have the opportunity to study Latin and Classical Studies. Future destinations may include, but are not limited to degrees in Law, Languages, History, Archaeology and Business.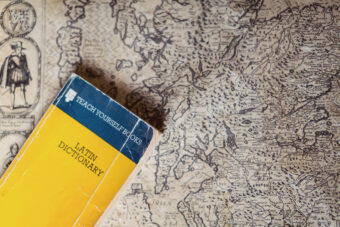 S1 and S2
Pupils may choose Latin as an additional language on entering S1, which they will continue to study until the end of S2. Using the Cambridge Latin Course, pupils gain a good grounding of the basic grammar of Latin. The course is based on life in the town of Pompeii, and its destruction by the volcano Vesuvius in 79AD. In S2 we begin to read three stories from Ovid's poem Metamorphoses – the tales of Echo and Narcissus, Arachne and Actaeon. We study them as much as stimulating pieces of literature as for their Latin content, and look at how they have influenced future generations in literature, art and religious beliefs. Many S2 pupils choose to continue to study Latin to National 5 level.
National 5
Pupils prepare for their National 5 Latin by studying and translating passages based on the myth of Cupid and Psyche, which combines Greek mythology and Italian folktales. By the time they have completed this study, students will have learned complex grammar such as the uses of the subjunctive and the case structure of Latin. Two Latin authors are studied in depth: students read two letters of Pliny (who writes about the supernatural and the behaviour of dolphins) and Ovid (his retelling of the myth of Daedalus and Icarus).
Higher Latin
At Higher, pupils study the account of the eruption of the town of Pompeii given by Pliny, an eyewitness to the event. Then we examine Ovid's Metamorphoses, studying how he presents two stories of love, Pyramus and Thisbe and Baucis and Philemon, comparing them to works of Shakespeare's "Romeo and Juliet" and "A Midsummer's Night's Dream", and modern films and novels such as "Titanic", "West Side Story", and "The Fault in Our Stars".
Higher Classical Studies
S5 and S6 pupils who have no knowledge of Latin, but attained good pass marks in other subjects can opt to study Higher Classical Studies. The course involves studying translations of two famous and powerful Greek tragedies: Oedipus Rex and Agamemnon. Students should leave with an understanding of the concepts which underpin Greek tragedy such as fate and freewill, heroism, and the nature of wisdom and suffering. The religious and philosophical beliefs of Romans and Greeks are also explored. Areas which are particularly important are the concepts of the nature of the gods, the beliefs regarding life after death and the soul, the attraction of the mystery cults and the role of women in Classical religion.
Advanced Higher
Higher Classical Studies candidates can then progress to study Advanced Higher Classical Studies in S6 when the timetable allows the course to run. This course comprises an examination of Greek and Roman philosophical and political thought (by studying Plato's Republic, Aristotle's Politics and Cicero's treatise On Obligations). Pupils explore themes such as what constitutes "good governance", the nature of justice and happiness, and how we should live together, comparing Classical ideas to later philosophers and ideologies such as utilitarianism, Marxism and the thoughts of Machiavelli. Students have gone on to study philosophy and politics at university.
This course is also open to pupils with good Higher passes in other subjects such as History, English and Modern Studies.
Curricular Activities and Extracurricular Clubs
S1 and S2 pupils visit Hadrian's Wall each year. They examine the finds there and learn more about the work of archaeologists.
Meet the Classics Teacher
Mr Dudgeon
I am the principle teacher and head of department of classics. I came to Wellington in 2013 from a big comprehensive school in the east end of Glasgow. I teach Latin and further up the school I teach higher classical studies, and the principal assessor of Higher classical studies in the SQA. I also host after school board games clubs within the school.
Wellington has a nice family atmosphere. It's a small enough school that everybody knows each other and everyone gets along. My favourite thing about wellington- it is nice to be able to teach and not worry about pupils not returning their homework because pupils here are well motivated and work hard and keen to do well.
I became a teacher because I love my subject,  I loved it when I was in school and university. I believe that teaching is an honourable profession, there is nothing more satisfying than making student enthusiastic about your subject and learning, noble profession.
A Quote on Wellington life:
"Live the dream"